Joystick Quick Start
Est. 8 minutes to complete.
1. Understand the Hierarchy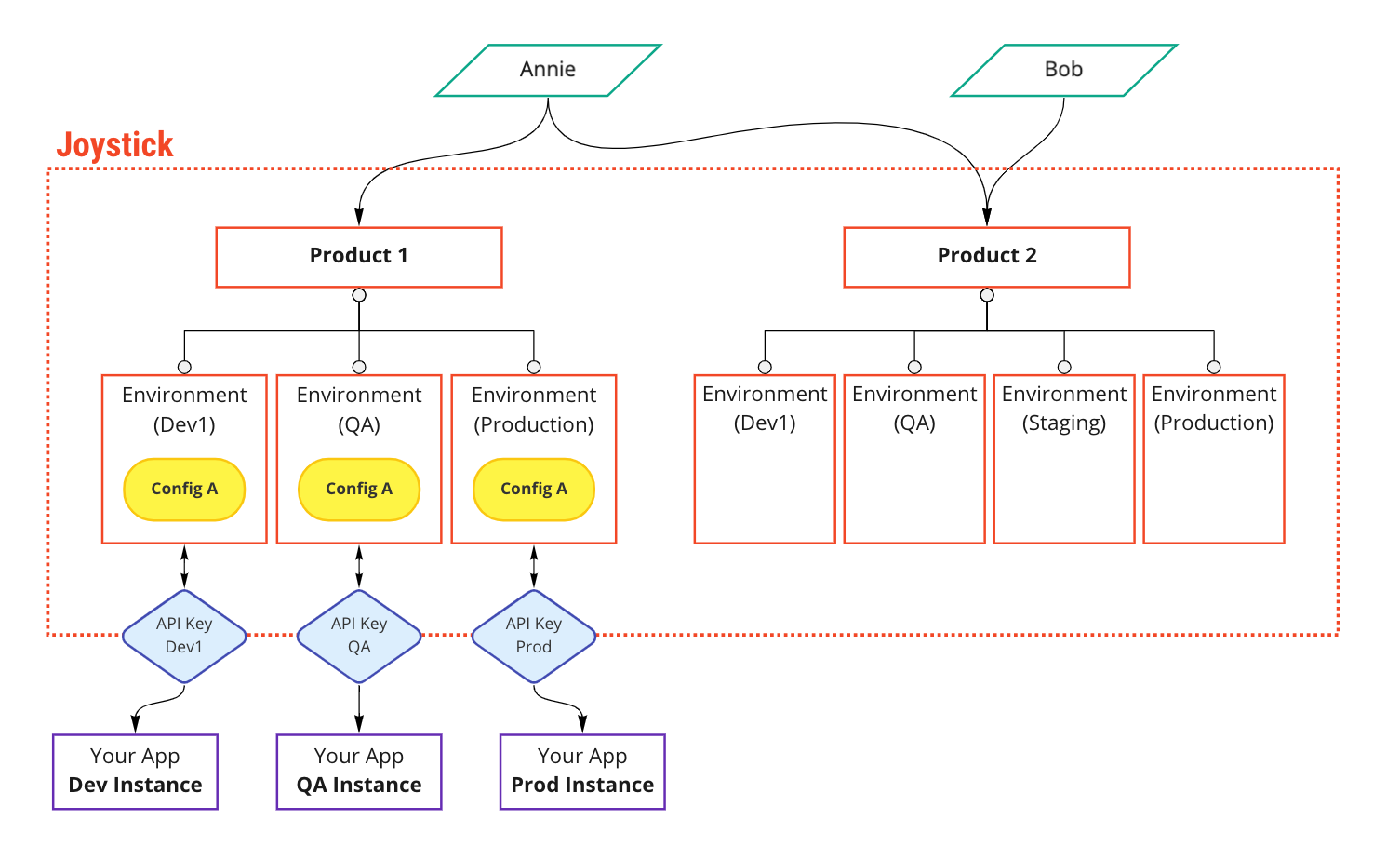 Component
Description
Organization
- An "Organization" represents your company, studio or working group.
- An Organization can have multiple products.
- Users for all of your products can be managed at the Organizational level.
- Users can be Organization "Owners", "Editors", or "Members".
Product
- A "Product" can be created to match each distinctive application or game that you are building.
- A user can create or be given access to one or more products.
- A Product is where you invite other members of your team to collaborate.
Environment
- Each product can have multiple "Environments".
- These can correspond to how your workflow and pipeline is setup.
- Within each environment, there can be many configurations / content.
Content
- Content is your JSON.
- Content is stored in each environment.
- You can easily push and sync configuration content between environments.

API Keys
- API Keys are provisioned and managed at the environment level.
- Each environment will have it's own API keys that give access to content in that environment only.
- To access the same config, in a different environment, you will have to switch environment keys in your application instance.
2. Create an Account
3. Create a Product
A "Product" is where all of the configurations for any one particular app or game should be housed. When you first login, you will have an empty Organization, and the option to create a Product.

| Input | Description |
| --- | --- |
| Product Name | A friendly name for the product. Can have spaces. |
After you have created your product, the card should be shown. Click on it to open the Product.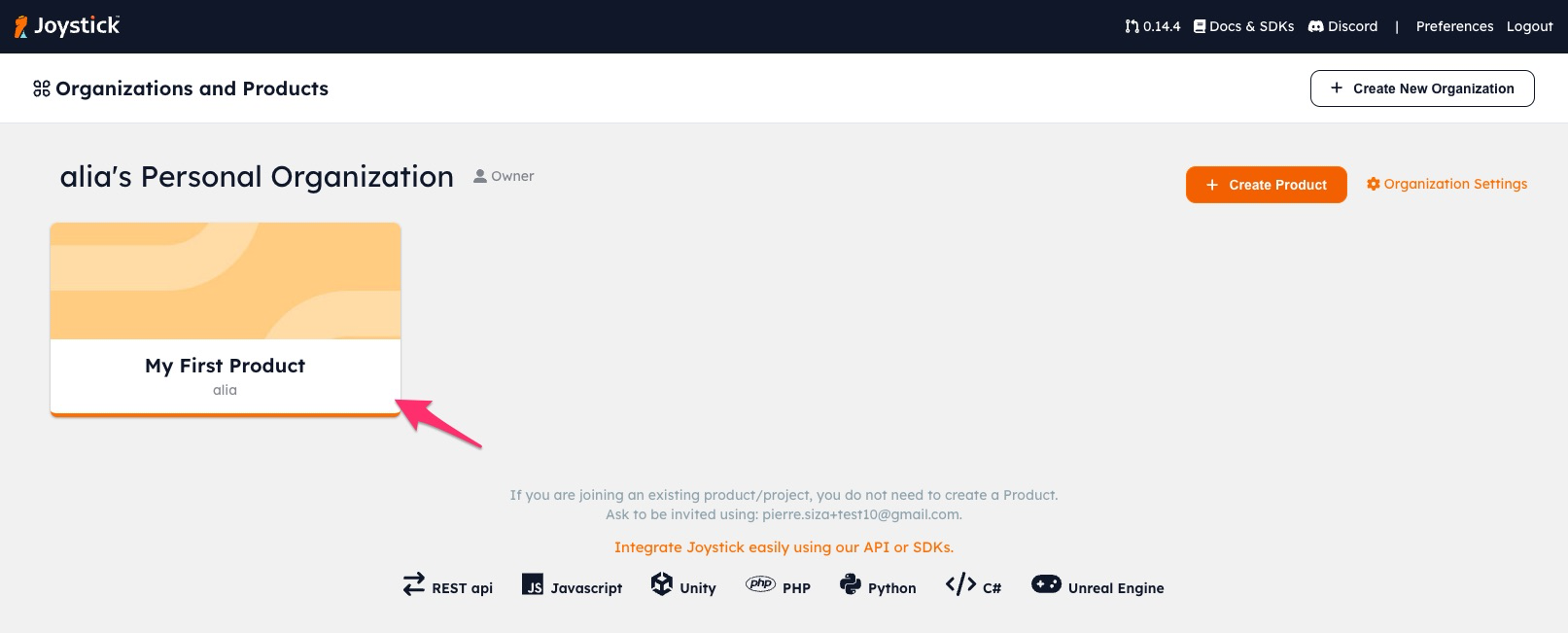 4. Create an Environment
An "Environment" is a container for your configurations. A typical setup may have four environments: "Development", "QA", "Staging" and "Production". With Joystick, you can easily sync/promote configuration content between environments. Let's create one environment to get started.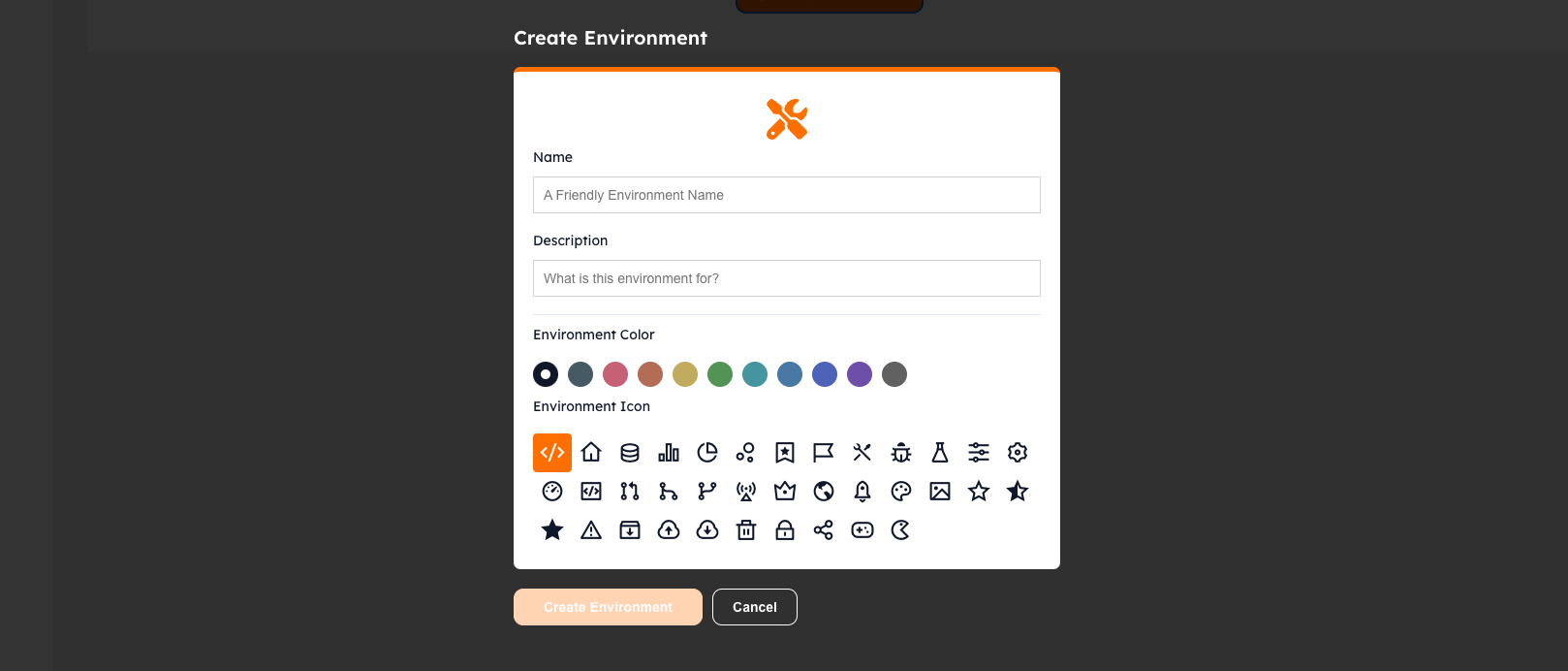 | Input | Description |
| --- | --- |
| Name | A short, friendly name for this environment. |
| Description | Short, additional information you want to add about this environment and how it can be used. |
| Color and Icon | Used to visually identify an environment. e.g. you may want to set "Production" as a red color. |
You'll see your Environment Card. Click it to enter the Environment.

5. Add a Config
The environment is currently empty. Add your first piece of configuration/content to Joystick here. It can be any JSON content that you would like served to your application.

This is Joystick configuration content editor. You can place any valid JSON configuration here. We don't restrict you to simple key:value pairs.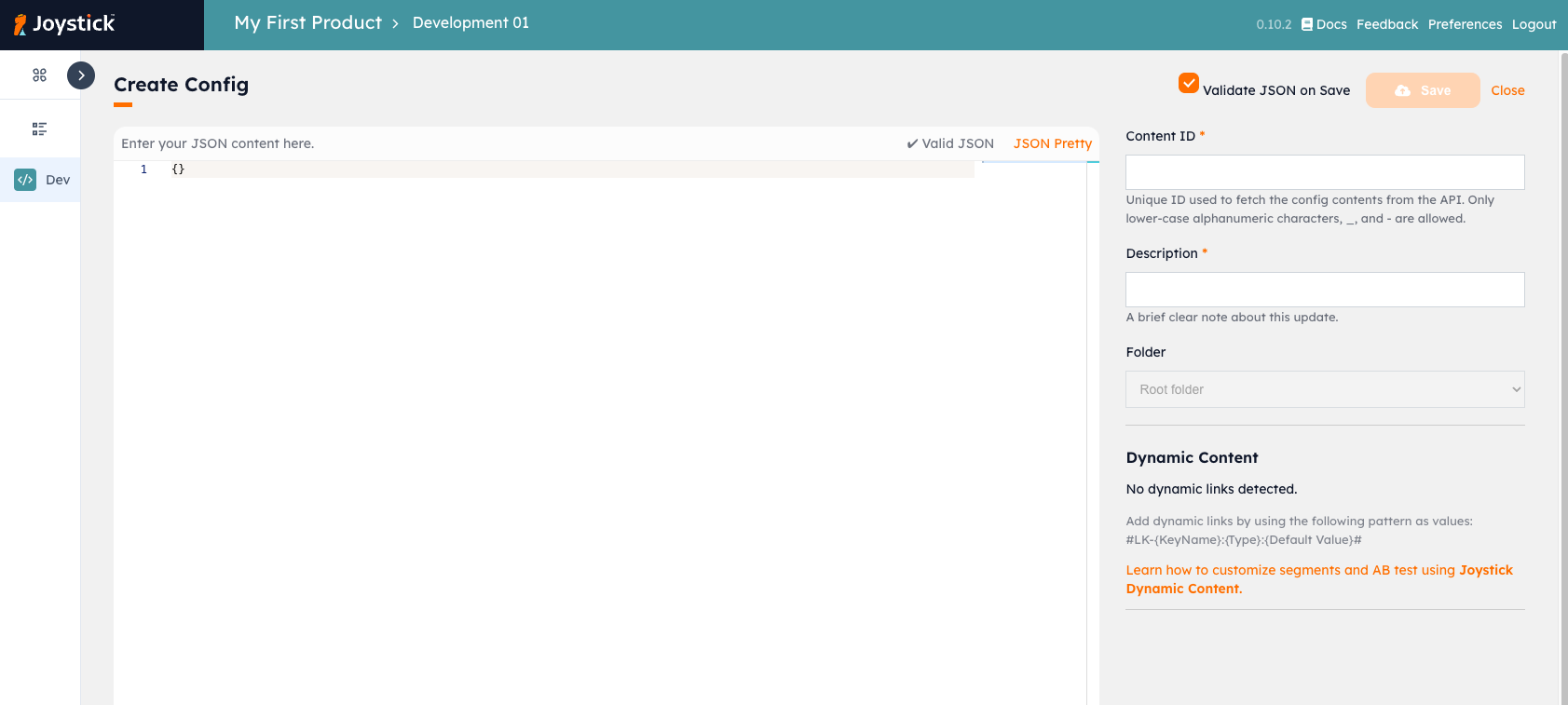 | Input | Description |
| --- | --- |
| Content Id | This Content Id must be unique per environment. This is the identifier used to retrieve the content via API. |
| Description | Describes what this configuration version is for so others can understand the change. Best to keep this short and descriptive. |
| Folder | The folder where this content will be placed. You can move content around later. |
Try adding this simple snippet then saving.
Click "Save" on the top right and you will be taken to the content viewer. The top revision indicated as "Active" is available over the API.

6. Generate an API Key
An API Key allows you to get your content from an environment. Click your environment name at the top, then "Environment API Keys" to go to the API Key manager. Create your first API Key!


| Input | Description |
| --- | --- |
| Key Name | A short, friendly name to identify this key and its usage. |
| Key Permissions | Select "Read Only" for this example. |
After you have created your key, it will appear in the list. API Keys can be revoked from here.

7. Get Your Content via API
With your API in hand, you are ready to get your content. Our API is light-weight.
What's Next?
This is just scratching the surface of the features we have in Joystick.